Henley Open for MBA Scholarship Applications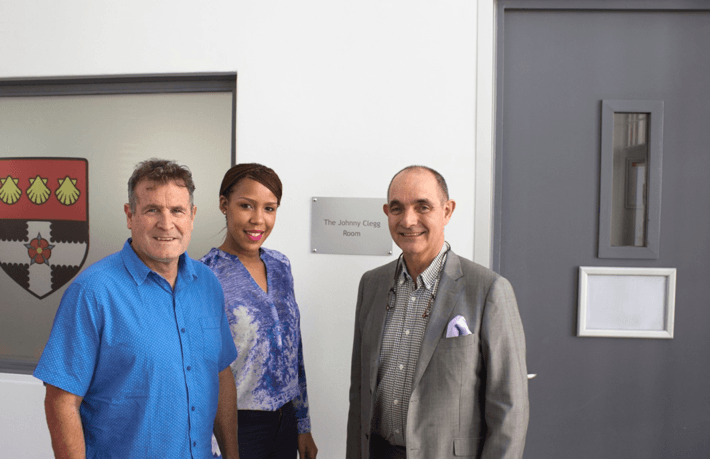 From left: Johnny Clegg; scholarship recipient Naima McLean; and Henley Africa dean, Jon Foster-Pedley
Henley Business School Africa has opened applications for its MBA scholarships. Four scholarships are made available each year to potential students applying for the MBA.
This includes a scholarship for Henley's unique MBA for Creative Activists and Innovators; the Dean's scholarship; and African Heroes' scholarship and the Johnny Clegg Creative MBA scholarship. Applications should be submitted as soon as possible for a limited number of places, which will be allocated on merit. Recipients will have displayed a real sense of purpose in building South Africa and its people. The scholarships cover the Henley flexible MBA programme with a range of business people and entrepreneurs, plus extra module to cover the creativity and innovation skills.
Previous recipients of the Johnny Clegg scholarship include Tshiamo Mokgadi, producer at the Market Theatre; Naima McLean, a well known poet, musician and actress who is a member of the African Leadership Network; and Barry Van Zyl, recipient of the Dean's Creative Activists and Innovators MBA scholarship. All three scholarship recipients are busy with Stage 2 of their MBA.
Ms McLean completed her BA Theatre and Performance degree at the University of Cape Town and has acted in TV roles in Generations, the UK TV series Wild at Heart and in the film Vehicle 19.
Mr Van Zyl has been the drummer for the Johnny Clegg band for the past 16 years and has toured extensively worldwide. He has worked with the likes of Oliver Mtukudzi, Carlos Santana, Annie Lennox, Ladysmith Black Mambazo, Peter Gabriel, Soweto Gospel Choir, the Hothouse Flowers and the London Chamber Orchestra. He has lectured at Wits, Drumtech (London), CT University, University of KZN, SAE and Pretoria Technikon.  His percussion scores can be heard on feature films like Tstotsi, Zambezia and Khumba.
Ms McLean said, "The Henley MBA programme is completely opening my world. From a knowledge perspective it has given me insight to effective management approaches in a way I had never considered before, particularly as they pertain to business strategy in the areas of processes, financial analysis and people management."
"The programme has literally impacted all areas of my life directly and indirectly and I appreciate the immense growth every step of the way. The opportunity given to me through this scholarship has truly been a blessing."
Mr Van Zyl has a vision for the SA music industry: "Countries like France, Canada and Australia have developed programmes to nurture talent by providing mentorship, resources and study opportunities. These countries value creatives and their impact on the economy. But SA lacks these initiatives," he said.
"My overarching goals are to gain a tool-set to transfer a good idea into a sustainable value offer, new language skills and a broadened network. I'm planning to achieve a successful transition from touring musician to creative entrepreneur, within the next five years. I am also pursuing a consultancy role in entertainment, executive education facilitation and definitely more formal and informal learning."
"On reflection, I've significantly increased my study, reading and retention capabilities. My ability to analyse, process and manage data and situations has grown. My network resources are growing rapidly and I'm having conversations with a confidence and style previously not available to me," said Mr van Zyl.
Jon Foster-Pedley, dean of Henley Business School, said the MBA course includes workshops with select groups of individuals focusing on developing their creative and innovative capabilities. The programme develops and grows skills for creatives as well as for business innovators and entrepreneurs.
"Marketing and business understanding have become the backbone of a successful career, but most creative undergraduate degrees are still craft-focused and have insufficient business education. Creatives are left to figure out the business side on their own," said Mr Foster-Pedley.
He said that creativity in business is integral to the future growth of SA managers. "However, businesses may remain reluctant to be creative for fear of failure. But for those who do try, the potential exists to create business growth and enhance employee satisfaction and retention."
"There is a change in the business world. Creativity is being used not only in marketing but also for addressing business challenges and building new business models. New creative ways of working are being implemented and encouraged."
"With our Creative MBA+ we encourage students to think outside the box compared to traditional management styles. We find that allowing staff to be creative, even in the small areas of their responsibility, increases productivity, affects the company's bottom line and can provide a competitive advantage," said Mr Foster-Pedley.
"I am impressed by Tshiamo, Naima and Barry as well as our other scholarship students and graduates. They have shown a strong commitment to the MBA whilst balancing whirlwind work schedules. I have no doubt that those still studying will continue to thrive at Henley," he said.
END